Ongoing coverage of the Australian election campaign for 2016.
Table of contents

.
(June 6, 2016) Day 30 – Angry shouty treasurer
George Christensen referred to AEC
New England votes update
Angry shouty treasurer
Turnbull declares himself a feminist
Turnbull to change Fair Work Act
Malcolm Turnbull reflects on his parents
Indi votes update
After school hours childcare
Fiona Nash lashing
Nationals Senator Fiona Nash has accused Bill Shorten of "prehistoric language" for using the term "little women" but footage here shows that he did not.
A recent study showed that rising childcare costs make it uneconomical for women to go to work or return to the workforce.
Newspoll 2PP 50 percent
Cartoons
.
(June 5, 2016) Day 29 – Childcare package
Turnbull fights for firefighters
Tanya Plibersek and the sleeper issue
Liberal Party sleight of hand
Increasing childcare cap and benefit
Marriage equality
Wildlife boost
Frayed ends of bush loyalty
Mentioning Trump
Mentioning the war
Superannuation muddle
.
(June 4, 2016) Day 28 – Close race
Newman Turnbull clash
Wondering if the Crosby-Textor format used in the UK election, the Australian election and the Queensland election is getting a bit old.
During the 2015 Queensland election campaign, the LNP famously misspelled "stronger" as "stonger".
Renewable energy
Kids debate
Augmented reality
Footage of Opposition Leader Bill Shorten backing corporate tax cuts in 2011 has been circulated in the media. However, Prime Minister Malcolm Turnbull as recently as 2015 on ABC 730 expressed budgetary concerns.
 Fairfax Ipsos poll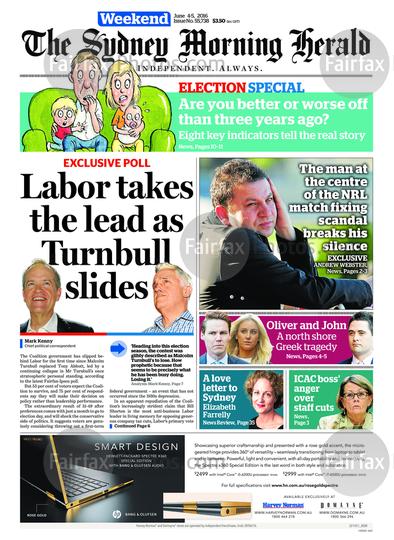 Battle for Warringah
Nuns deface political poster
Arts restoration
Bill in Melbourne
Mal in Adelaide
Hansonism hits wall of resistance
.
(June 3, 2016) Day 27 – Saving Jamie Briggs
Wyatt Roy in trouble
Jamie Briggs says he wasn't dumped
Mal goes to Mayo
Bill on the Apple Isle
ABC stoush with Labor
Cash for candidacy
Tony Abbott
Nemo found
Defection
Tax cuts modelling way out
Action on climate change
Cartoons
.
(June 2, 2016) Day 26 – Superannuation rebellion
Super policy frail
Qld abandoned by Turnbull Government
War on growth
Pyne whine time
PM's email leak
Bill's fishing trip
Chaser stunt creates #ElectionRat
Cartoons
-Ends